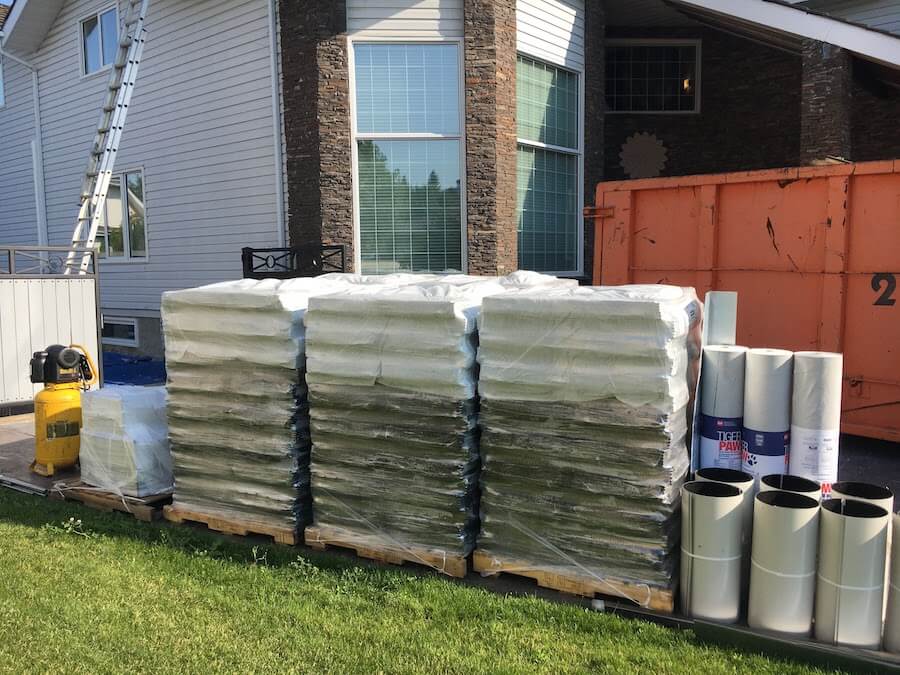 May 18, 2023
Roof Cost Edmonton
The cost of roof replacement in Edmonton doubles every ten years. Therefore, it is crucial to research and make an informed decision when determining the right time to do your roofing project.
Asphalt Roof Cost*
The average cost for an asphalt roof is about C$4.00 per square foot (2022). Standard asphalt shingle roofs last 17 years on average. Steep-pitched or shallow roofs will cost more. 
A premium architectural shingle roof may cost over $5.50 per square foot. But they can last for 30 years on average. 
*Asphalt roof cost includes both material and labour. 
Click here for detailed cost information on asphalt roofs. 
Permanent Roof Cost
Permanent roofs such as the Euroshield rubber roofing system, clay tiles and metal (steel or aluminum) roofs are more expensive than asphalt shingle roofs. Generally, the final bill is 2.5 times or more than the cost of a standard asphalt shingle roof.
Euroshield rubber roofing has existed for more than 20 years. In the past six years, Euroshield has gained a lot more recognition in Alberta due to its durability, long lifespan and environmental factors. Metal (steel or aluminum) roofing has existed for over 50 years. It is a popular alternative option. 
Cedar Shake Roof Cost
Cedar shakes are NOT a permanent roof. They are natural roofing products. While many cedar shakes outlast asphalt shingles, they do not last as long as a permanent roof. In Canada, some qualitative cedar products come from BC. Many cedar shakes and shingles are made from the Western Red Cedars, a large tree, durable and light in weight.
Cedar shakes are extremely expensive to purchase and install in 2022. The lifespan is 20-25 years. 
Solar Panels 
The cost for solar panels is usually $15K to $30K in Edmonton, depending on how many panels a homeowner wants to install. Solar panels should be installed after the roof replacement is complete unless the roof is relatively new (less than 10 years) and free of defective shingles. The overall cost (solar panels plus new roof) can be high for some homeowners, therefore, budgeting is a necessary step before getting them done. 

Solar panels last for 25 years on average.
Homeowners can receive rebates for solar panels from both the City and on the federal level. With the help of more than one rebate, homeowners can save up to 50% of the total cost.