Roofing Cost 2023
Roofing cost depends on the market supply and demand, the quality of the roofing shingles, the roof pitch, the roof area, and the complexity of the roof. In addition, with current global uncertainty, the cost of roofing materials may increase significantly in 2023. 

An asphalt roof starts close to $4 per square foot in Edmonton. 
Check out our blog post on the cost of re-roofing.
Photo: shingle bundles and roofing underlayment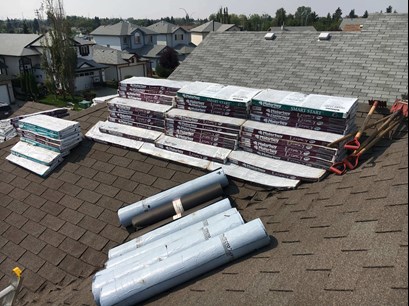 What is included in the cost?
Roofing Labour Cost
Why do you need an experienced roofing contractor?
Labour cost is a significant portion of the total roof replacement cost. This is because it takes days of hard work to complete a roofing project and many years of training and experience to make an excellent roofer.
There are different types of roofing labours, and their wage differs depending on their skill level. The ground-level labours perform shingle tear-offs and clean-up works. They also assist other roofers who install shingles and do metal flashing work. The Crew Lead is the head of the crew. He is responsible for managing the workflow and ensuring the work is performed. A Crew Lead reports directly to the Operating Manager or the Business Owner. Sometimes, the Crew Lead is also the Business Owner.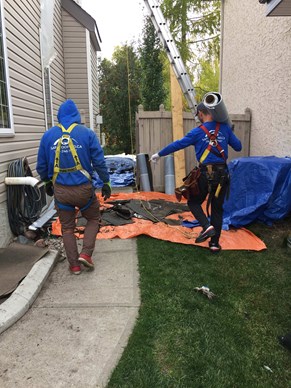 Roofing Materials Cost
A roof replacement takes a lot of material. An average roof consumes between 70 to 130 bundles of asphalt shingles, that is, 3,500 to 6,000 lbs of materials! Asphalt shingles cost increases by 5% to 10% annually, and sometimes the cost will increase more than two times a year. Premium asphalt shingles cost twice as much in comparison.
Check out some roofing shingles we recommend. 
Roofing shingles are just one thing. Accessories are another significant portion of the total material cost:
Starter shingles
Hip & ridge shingles
"Ice & water" waterproofing underlayment
Water-resistant roofing underlayment
Plywood or wood boards
Roofing vents
Goosenecks and plumbing vents 
Drip-edge and other metal flashings
Nails, caulking, and other small stuff
Shingle Delivery and Hoisting Cost
Asphalt shingles come in bundles. Using a crane, they are transported by a truck and hoisted on top of a roof.
In this picture, a Convoy 30-ton crane is hoisting shingles to a homeowner's rooftop.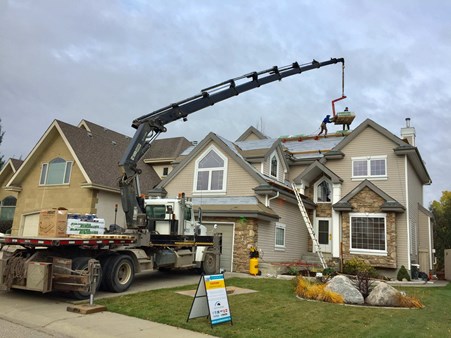 Dumping Cost
Shingle waste and other construction garbage are placed in dumping bins or trailers. After the bin or trailer is full, it will be hauled to the Edmonton Waste Management or a similar facility in the city.
Photo: a 40-yard dumping bin is used for a roof replacement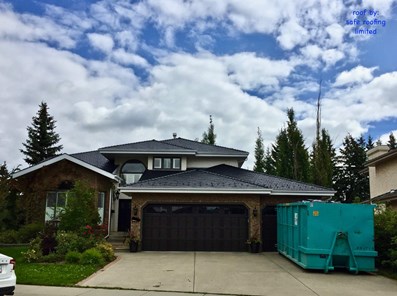 Roof Inspection
Don't want surprises? You may ask the roofing contractor to have a roof inspection done. A roof surface inspection checks the condition of the shingles, metal flashing conditions, etc. An attic inspection checks the roof ventilation system, the condition of wood trusses, the state of the roof deck, and the insulation level.